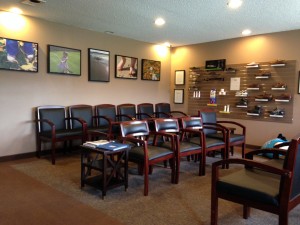 Introducing the Heel Pain Relief Center, now open at Fenton Foot Care!  If you have not experienced heel pain yourself, you probably know someone who has.  As a recent article points out, 85% of adults will develop heel pain in their lifetime.  Without treatment this heel pain will last on average for 3 years, but with expert treatment from our highly-trained doctors, it can usually be resolved in less than a month.  James Hirt, DPM is an expert in treating and preventing heel pain.  Dr. Hirt is a board certified physician with 3 years of surgical training, along with advanced training in Endoscopic Plantar Fascial Release surgery.   Dr. Hirt has performed hundreds of Endoscopic Planter Fascial Release surgeries, and has the expertise and experience to identify and treat your heel pain.  There are multiple causes of heel pain, and no one treatment works for every patient or condition.  Surgery is not necessary in the majority of cases, and our doctors have the philosophy that the least invasive option is always best.
The Heel Pain Relief Center offers:
In-office Muscular-Skeletal Ultrasound Diagnostics
Custom Functional Orthotics specifically tailored to relieve your heel pain
Night Splints
Hi-Resolution Digital X-Rays
As well as an array of Physician-Selected over-the-counter treatment products
If you are experiencing heel pain, make an appointment today by calling 810.629.3338 [FEET].  Don't live with heel pain, let our expert doctors help you to get back on your feet again, pain free!