Dr. Holdren Otis
I have spoken with many runners and their trials of trying to find the correct running shoe for their build, running gait, mileage, terrain and foot type. There are many, many types of shoes to choose from and the task can be daunting. Let me start with what a running shoe can offer for you. The first is protection from the road below your feet. Why wear shoes in the first place? The reason is to allow you to run on anything from icy paths, rocky dirt roads, a smooth river trail or a grassy field. The second a running shoe will offer is cushioning to take away a little shock from your body falling to the ground with every step at six times your body weight. Some shoes like the Hoka brand have a very thick sole and offer what many of my running friends call a "smooth ride." Other shoes are for more efficient "ball of the foot" runners like the Nike Free, offer less between you and the miles ahead.
Ok now let's discuss what a running shoe is not going to give you. Arch support. That insert in your shoe is usually colorful and soft, but little else. It is flexible and may have a little more material where the arch of your foot is but it is not support. If I can bend the insert with my hands then you can definitely do it with your body weight. I have heard from many runners "I bought these shoes because they have good arch support." The shoes you have purchased may have stability, they don't bend in the midfoot, which is a good quality of a shoe but they don't support your arch. Any shoe that offers memory foam may feel good and squishy but it is not arch support either.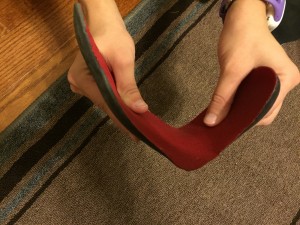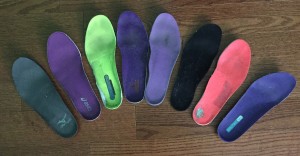 Shoe inserts all look about the same. These are from Asics, Addidas, Fila, Sketchers, Nike, Saucony, Mizuno and New Balance. I have run in about every major shoe brand.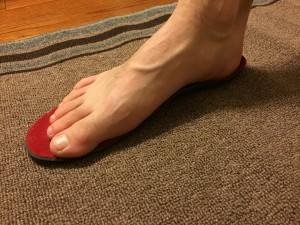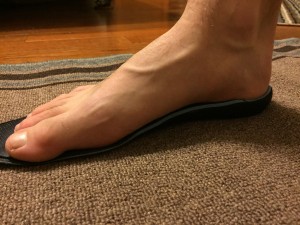 Not absolutely everyone needs arch support but if you have had foot pain, plantar fasciitis, heel pain, arch pain, very high or low arched feet, a custom molded orthotic made to your exact arch is an excellent way to support your arch and foot. If you have tried orthotics in the past but they were too rigid or painful for you there is an answer for that too. An orthotics doesn't need to be made out of a hard material to be effective. A semi rigid device can be made so the main structure has a little give to it and it is covered with a soft material to make it comfortable to wear. With anything made specific for you and your foot, Dr. Hirt and I want to make sure that you love wearing it. Given time you will not even notice that you are wearing your orthotics, but will become aware if you forget to put them in a pair of shoes. Both Dr. Hirt and I wear orthotics in all of our shoes.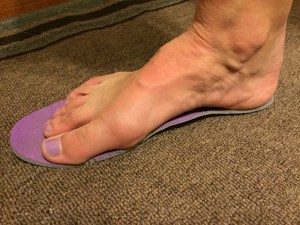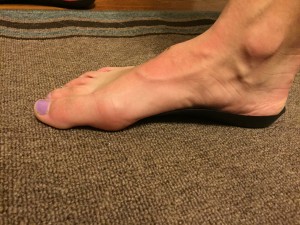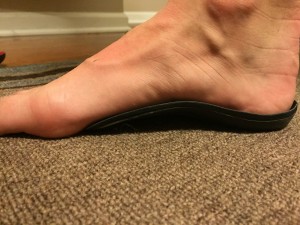 An orthotic can turn an okay pair of shoes into a great pair and searching for just the right pair of shoes may become a little bit easier. If arch support is what you are looking for, look no further than Fenton Foot Care your local podiatrist.