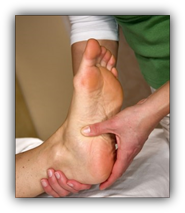 April is Foot Health Awareness Month, so here is a true/false quiz to help you be sure your feet are as healthy as they can be!
1. "IT CAN'T BE BROKEN BECAUSE I CAN MOVE IT."
False.
You can walk with certain kinds of fractures.  Common examples include breaks in the smaller, outer bone of the lower leg, small chip fractures of the foot or ankle bones, and the often-neglected fracture of the toe.
2. "IF YOU BREAK A TOE, IMMEDIATE CARE ISN'T NECESSARY."
False.
A toe fracture needs prompt attention.  X-rays will reveal if it is a simple, displaced fracture or an angulated break.  Your podiatrist can develop the right treatment plan once he or she has identified the type of break.
3. "IF YOU HAVE A FOOT OR ANKLE INJURY, SOAK IT IN HOT WATER IMMEDIATELY."
False.

Heat promotes blood flow and can cause greater swelling, which can lead to more pain.  An ice bag wrapped in a towel is the ideal temporary treatment before you see your podiatrist.
4. "APPLYING AN ELASTIC BANDAGE TO A SEVERELY SPRAINED ANKLE IS ADEQUATE TREATMENT."
False.
Ankle sprains often mean torn or severely overstretched ligaments, and they should receive immediate care.
5. "THE TERMS 'FRACTURE,' 'BREAK,' AND 'CRACK' ARE ALL DIFFERENT."
False.

All of those words are appropriate for describing a broken bone
You may have noticed that all of the answers were "false".  These are 5 common myths about foot and ankle injuries.  If you suspect you have broken or sprained your foot or ankle, don't take chances, come in today.  Your feet are your foundation, don't risk further pain and injury.  You don't have to live with foot pain, keep your feet happy and make an appointment today, your feet will thank you!